National League of American Pen Women–Denver Branch
Meeting Minutes
February 2, 2013
I. Diane Chambers called the meeting to order at 10:00 AM.
II. Members in attendance were: Andrea Antico, Diane Chambers, Erika Christiansen, Kelly Ann Compton, Florence Elliott, Pat Kennedy, Ann Klaiman, A. Marie Kriss, Sue Luxa, Lorrie Reed, Sue Luxa, Mollie Rue, Virginia Small, Sheila Phelan Wright. Guests in attendance were: Wendy Polich, Vickie Drake, Beth Schutt, Maggie Pike.
III. Lorrie read a Valentine Inspirational Reading.
IV. The January Minutes were approved as written.
V. The January Treasurer Report was accepted. Our current balance is $2316.55.
VI. Committee Reports
A. Tapestry for Peace: An Albany Museum IS interested in giving the tapestry a permanent home. A friend of Erika's is currently housing the tapestry.
B. March Guest Critiques: No one has signed up yet. Kriss will double check her contacts. Kriss and Virginia will work on a flyer to be in PDF format and will send it to everyone so we can put the flyers in libraries and bookstores. A suggestion was made to potluck the lunch after the critiques. Diane and Kriss will discuss this idea.
C. Programs –
a) March—Guest Critiques
b) April— Florence Elliott on poetry
c) May—Virginia Small
d) June—Planning Meeting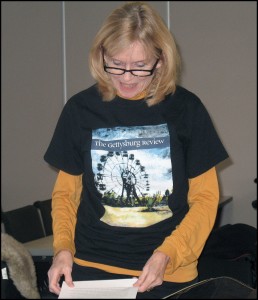 D. We still need a Historian. If you are interested or would like to know more, please speak to Diane.
VIII. Outreach Project Updates
A. Bessie's Hope: Kelly Ann and Ann shared that we need more members to be a part of this in order for this outreach to happen year round. A suggestion was made that Stephanie, our contact at St. Andrew's Village, be asked to share how she goes about helping the residents share their life stories. Kelly and Ann will contact and meet with Stephanie. Andrea is willing to go with Kelly Ann in March. Sue L. would like to volunteer someplace other than St. Andrews Village; some place closer to her home.
B. Place Bridge Academy: Andrea visited and left supplies for 3rd grade teacher, Ms. Basquez. Ms. Basquez emailed to thank Andrea and stated that that she is now teaching 5th grade but would pass on Gwen's and Andrea's names to the current 3rd grade teachers.
C. Artists' Fairs: Kriss is looking into the Cherry Creek Farmers Market. Sheila queried about our branch compiling our own book.
IX. Old Business: One of our Lincoln Anthologies will be put on the shelves in Aurora Public Library, hopefully the Eloise May Library. Our branch sent $50 to National as a thank you for the two books.
X. New Business:
A. A letter came from National in regards to discrimination within some of the Pen Women branches. We agreed that this does not seem to be an issue in our branch
B. Annual dues have increased.
C. Kriss suggests that National needs a Membership Chairwoman and will send that idea in.
XI. Branch Announcements:
A. Kelly Ann's book, Discombobulated: An Inspiring Journey of Hope Through Mental Illness, is now an e-book! It is available for both Nook and Kindle readers.
B. Nancy believes her coming book will sell for $17.55.
XII. The meeting was adjourned at 11:04.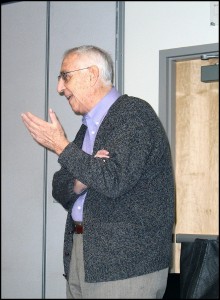 After the meeting, we enjoyed a presentation by Ted Borrillo. Here are some of the words of wisdom Ted gave us on writing poetry:
A. Poetry has to move and flow like a river within/between the banks
B. In general, avoid tricky vocabulary that will stop the poem (Ex.: cranium)
C. Say something we understand and want to repeat (A nonstop feeling)
D. Poetry is "a speck of dust dancing in the light."
E. "We're all on street corners waiting to be loved."
F. 'the infinity of littleness'
G. Some poems are to ponder a question (on things people don't want to hear)
H. (Flash) Spontaneous poetry–"My brainium is in my cranium as well it should be"
Respectively submitted,
Kelly Ann Compton, Secretary
Save