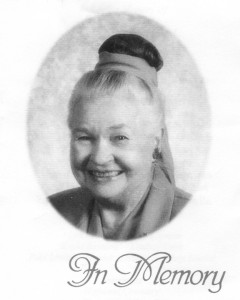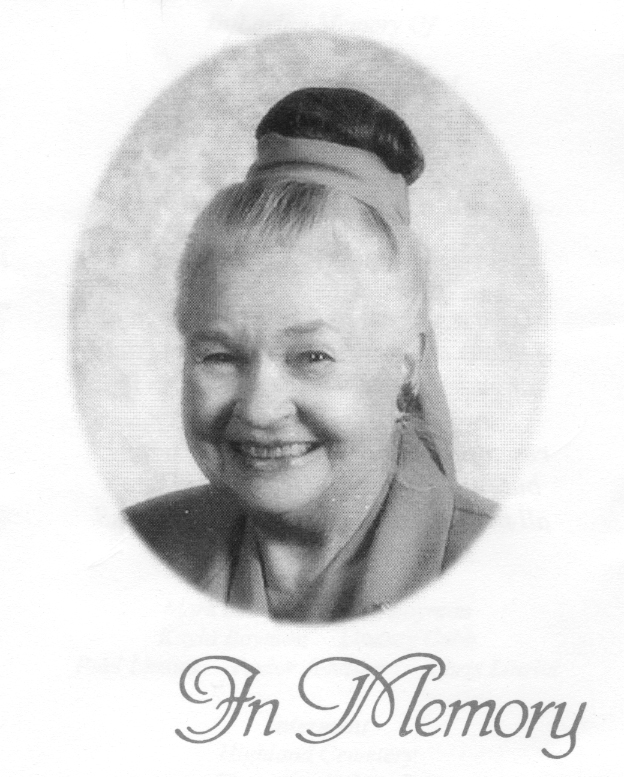 "She was ageless; her presence, her smile, and her love will always be missed."
Services for Phyllis Brees Eberhard, who first joined the Denver Branch in 1965 and remained an Active Letters member of NLAPW until her death , were held at Mt. Zion Lutheran Church, Denver. The following biography appeared in the program:
Phyllis Brees Eberhard
July 19, 1920 – July 22, 2010
Phyllis Brees was born in Choteau, Montana on July 19, 1920. Phyllis was one of six children, the eldest of the three daughters, and had three brothers. She hunted pheasants on the Montana prairies and bagged her limit every time.
At Great Falls High School in Great Falls, Montana, Phyllis formed and sang in a trio. They sang in the school and at other functions. Their music was comparable to the Andrews Sisters.
Phyllis had four children, three of whom were born in Great Falls, Montana. Her youngest son, Mike, was born in Denver. Mike was born with Cerebral Palsy. Doctors and relative advised Phyllis to "put Mike in Ridge Home" for care. His pediatrician, Dr. H.L. Guard, told her "no," siding with her. Her dedication to this son resulted in his success and self-sufficiency in later years. She taught him to read, write, and spell using blocks on the floor. He rode a bicycle and swam like a fish due to her determination. Phyllis raised her four children alone for many years and volunteered for everything connected with them. She used to say, "She volunteered for everything except overseas duty," and, according to her kids, she wasn't kidding!
Phyllis taught her children to be respectful and to be kind. She expected them to be independent and self-sufficient. They were not allowed to tease or make fun of anyone less fortunate, nor were they allowed to judge or gossip.
She met Rodger at Mt. Zion Lutheran Church, and they married there on St. Valentine's Day in 1991. The twenty years they were married were her happiest. Her children loved Rodger, too. He was a part of their family and Phyllis a part of his. He was as independent as she was. Rodger was her rock, but the other strength was her faith in God.
An accomplished artist in oils, watercolors, and sculpting, Phyllis painted numerous portraits for friends. She sewed beautifully and loved to entertain. Her table settings were exquisite and tasteful. She and Rodger went camping together, and she whipped up gourmet meals in a cast iron flying pan over a campfire. Of course, she also made delicious meals at home.
At the last minute, her grandson begged her to enter her "Dilly Bread" and other goodies at the Douglas County Fair and walked away with a Grand Champion ribbon. It was 100 degrees, but she baked all morning and drove sixty miles to Castle Rock to enter. She won blue ribbons on her other entries. The following year, she entered her floral arrangements again taking Grand Champion on the mini-floral. Her grandson was delighted because those awards were also attributed to his 4-H club.
For years, Phyllis volunteered at the Cerebral Palsy Center of Colorado, where she wrote and edited "Spotlight," their newsletter. She was active in the CP Center both locally and nationally. She was a member of the Poetry Society of Colorado and received numerous 1st, 2nd, 3rd place and honorable mention awards. For several decades, Phyllis received awards on nearly every poem she submitted. She wrote a column for the Sentinel Newspaper called "Phyl on the Hill." Most of her columns were humorous…sort of Erma Bombeck style (but with her own zany sense of humor), but some were quite poignant. "Phyl on the Hill" ran for four or more years. Phyllis wrote and edited "The Link" for King Soopers stores at their main office and was the Store Secretary at Store #34 for over ten years. She was a docent at the Museum of Western Art (which displayed paintings by Charles Russell, Frederic Remington, and others). At the museum, Phyllis portrayed Nancy Russell, wife of Charles Russell (who lived and painted in her home town of Great Falls, Montana) for fourteen years. She and Rodger were supporters of the museum in Great Falls.
Phyllis accomplished so much in her life. She loved "her Rodger" and ALL of their children and grandchildren. She was an amazing mom, with a beautiful spirit and a zany sense of humor. Those who met her became instant friends and admirers. Once you met Phyllis you never forgot her. She was ageless; her presence, her smile, and her love will always be missed.