National League of American Pen Women–Denver Branch
Meeting Minutes
May 3, 2014
I. Ruthy Wexler called the meeting to order at 11:01 AM.
II. Members in attendance were: Ruthy Wexler, Kelly Ann Compton, Gwen Scott, Shirley Sheets, Nancy Peterson, Mollie Rue, Neeli Lambert, Marnie Buckley, Virginia Small, Marie Kriss, Andrea Antico, Sophia Baldwin, Jody Hinrichs, Virginia Daily, Florence Elliott, Beverly Chico, Sherry Leonard, Kay Taylor and Sue Luxa.
III. Members introduced themselves.
IV. Inspirational Reading read by Ruthy Wexler.
V. The April Minutes were approved as written.
VI. The April Treasurer's Report was accepted. Our current balance is $1,717.75
VII. Committee Reports:
A. The Blog Project: Virginia and Ruthy shared that the blogs and comments very good. Virginia explained how the comment section has change allowing for conversations. Kelly Ann encouraged everyone to write for the blog.
B. Website: Several of our members were involved in the Englewood Library Book Fair with their books. Virginia has posted a photo essay of those involved on the website.
C. Membership, Auditor, Budget: Kriss stated that we are doing well financially and she will have a year-end report next meeting. Our newest members include Neeli Lambert, Ginny Daily, Kay Taylor, Eleanor Binnings, and Sherry Leonard. Juliana Adams is in the process of completing her membership papers.
D. Tapestry for Peace: Kriss called the Buffalo Pen Women. They still claim interest getting the tapestry into a local museum, but are still not able to make a commitment. The tapestry is currently stored in a garage, which brings concern about disintegration and mice. It was suggested that we call the library in Salt Lake City, Utah as they have a very large space that could hold the entire tapestry; Sue suggested looking into the more local Bemis Library; Beverly suggested looking into the Women's International League for Peace and Freedom. Virginia reminded us that anyone unfamiliar with the tapestry can go to our website for information and pictures.
E. Programs: June will be our annual planning meeting a potluck. The meeting will be held at Sophia Baldwin's house. People with last names beginning in A-H will bring dessert, I-P will bring a side dish, and Q-Z will bring a main dish. We will meet at 11:00 AM. Sophia asks that if you have folding chairs, please bring them.
VII. Outreach Projects:
Artists' Fairs: Due to everyone's schedules, we will not be participating in the Highlands Ranch Festival on May 17 and 18.
Dakota Ridge High School Craft Fair will be in October 2014.
VIII. Old Business: None
IX. New Business: 1) Some members attended the Author U conference. They highly recommend attending it next year as it was a fabulous conference. Author U was started by Judith Briles. 2) A local publisher has not been paying monies due. We were reminded to always research a company before using them. 3) Andrea shared that the Assistance League Auxiliary of Denver (ALAD) is holding a Tea and Treasure TableScapes the first weekend in June. She suggests we consider having a table there.
X. Announcements:
A. Colorado Humanity Awards will be held Thursday, May 8 at 6:00 PM at the Oxford Hotel.
B. Nancy is a contender for the Colorado Authors League for best mainstream novel. Winner will be announced May 8.
C. Beverly will have an exhibit at Regis University library in July.
D. Shirley announced a Spring Signature Event-Trauma & Schools, Stronger in the Broken Places to be held on May 15 at Morgridge College at University of Denver.
XI. The meeting was adjourned at 11:53 AM.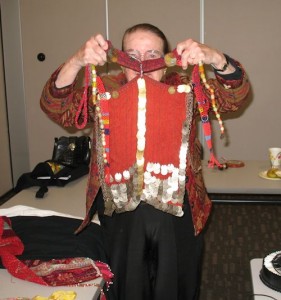 Beverly Chico gave an interesting presentation called "Hats, Halos, and Headwear." Thank you Beverly!
Respectively submitted,
Kelly Ann Compton, Secretary
Save