National League of American Pen Women, Denver Branch
Meeting June 1st, 2013
Minutes
In attendance were: Diane Chambers, Ann Marie Kriss, Nancy Peterson, Florence Elliott, Jody Hinrich, Carol Denker, Mollie Rue, Juanita Pope, Virginia Small, Erika Christiansen, Pat Kennedy, Andrea Antico, Gwen Scott, Lorri Reed, Sheila Wright, Sophia Baldwin, and Vickie Drake.
Our guests were: Nancy Malick and Donna Clark.
Note: Each year at this meeting we celebrate the life of former member Phyllis Brees Eberhard by wearing a hat.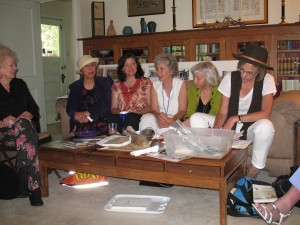 10:00 Ericka read from her manuscript The Dreaming Bounty Hunter, and the group critiqued her story.
11:15 The business meeting was called to order by President Diane Chambers.
Lorrie Reed read her poem about flowers and birds.
Donna Clark was introduced as a guest. The May Minutes on the web site were approved. Kriss read Kelly Ann's Treasurer's report. The balance as of 4/30/13 is $1782.23. A motion to accept the treasurer's report was made and approved.
Vicki Drake is applying for membership.
Florence Elliot submitted a poem to The Tea Room, which was published in their newsletter.
Kriss passed out a proposal written by herself , Sheila Wright, and Ann Klaiman outlining the qualifications and process for "emeritus" status. Diane read the qualifications.
The Denver branch already has 8 emeritus members. Kriss's proposal was unanimously approved by the membership.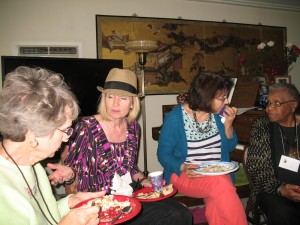 We discussed the Farmer's Market and the possibility of having a booth there, but the venue prefers to only have food vendors and not vendors such as our booth of books and crafts, so we decided not to pursue the idea.
We decided not to participate in the Woodland Park Artist's Fair because of the logistics of getting down to Colorado Springs and being set up by the early hour of 7:00 am. We decided that the Conifer Elevation Celebration would be better for us to participate in on July 13th, as they will have a parade and food etc. We discussed finding other events like RiNo near LoDo.
Sophia will also research the possibility of Western Welcome Week in Littleton, which may be a place for us to hold a Pen Women event.
Old Business: Diane read a note from Joice Fairchild with an update on the search for a permanent home for the 64-panel tapestry. There is still a possibility of a museum in New York that will house it. The members discussed concerns of us just handing it off to the new placement without clear guidelines and an agreement. Some questions were; Should we give it to the Buffalo Branch? Should we put the tapestry on scrolls to facilitate its housing and display? How will they preserve its beauty? It is a valuable piece of fragile tapestry that the Pen Women created and it needs a safe home. It was agreed that Diane would let Joice know that the branch members are pleased that Jamie, the Art Director at NLAPW National Headquarters is working with us to find a permanent home for the tapestry and that when a placement is found we would like to be informed and then have a contract drawn up with agreed upon guidelines before we sign off and deliver it to its home.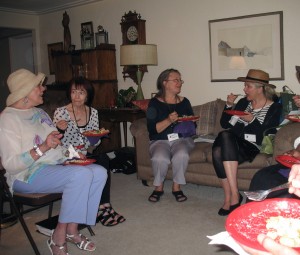 New Business:
Virginia Small introduced a motion that the Pen Women would begin to meet year round. The motion was seconded and approved. This summer's additional monthly meetings will be July 6th and August 2nd.
Sophia will read parts of her book "Lebanese Immigrant's Daughter" for a critique on July 6th.
Virginia introduced a second proposal about us having a Mastermind group that would meet and function as an "accountability support group."
Diane asked Virginia to research a little more regarding the logistics and cost of doing this and to get back to us with the information for us to consider.
Molly Rue presented information about the Progenitor Art and Literary Journal, and RiNo (River North Art District).
Two authors brought their recently published books: Nancy Person, author of "Not To Be Forgotten" and Jody Glittenberg, author of "Triumph of the Spirit". Sophia Baldwin also had copies of her book, "Lebanese Immigrant's Daughter." Nancy signed and sold copies of her book, and the others' books are available on Amazon.
Diane adjourned the meeting at 12:15. The Pen Women moved to the dining room where they enjoyed a lovely spring luncheon.
The annual program planning session followed, along with dessert.
Respectfully submitted
Sophia Baldwin
with corrections by Virginia Small
Save