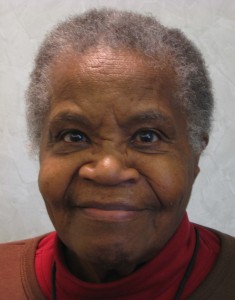 GWENDOLYN H. SCOTT
Gwen Scott graduated from Manual High School in Denver in 1944 and Denver University in 1948 with a BA. Subsequent scholastic honors included a Masters from Denver University in 1968 and two Fulbright Scholarships, to India and Kenya. Scott's career began as a public school teacher in Kansas City, Kan., before moving on to teach in Denver. When she began working toward her teaching degree in Denver, the schools were segregated, and she was allowed to teach only African-American students. She taught in the Denver Public School system for twenty-three years before retiring. She then became a facilitator-teacher for A World of Difference, a diversity training program administered in Colorado schools. After ten years in this position, Gwen retired a second time. Following a five-year adjunct Professorship in the Teacher Education Program at Denver University, Gwen retired for a final time.
As a community activist she has served on many boards, among them Denver Sister Cities, and Colorado Center for the Book. She has also earned honors, including the Martin Luther King Jr. Humanitarian Award in 1997.  On Nov. 22, 2008, in celebration of the 150th birthday of the city and county of Denver, Gwen was among 150 of its citizens to be honored as "unsung heroes" — ordinary people who have done extraordinary things to help make the city a better one for this and future generations.
Gwen has recently finished a book entitiled "Blacks Through the Ayes of Our American Presidents: A Political Timeline," in which she explores African- American history through the positive and negative influences of each U.S. President.
Past Offices Held with NLAPW: State Treasurer 1990-1992 and 1994-1996;  Denver Branch Treasurer 1988 – present.
Past Offices Held with National: Registration Co-Chair, NLAPW Biennial, Denver 2006.
Past Work Published: Teacher guides: "A World of Difference"(1989); "Schindler's List" film guide (1994); "Colorado Backyard Wildlife" (1992). Performance reenactments: Aunt Clara Brown and Dr. Justina Ford.
Recognitions/Awards: Denver County Human Relations – Martin Luther King Award, 1995; Alteria M. Bryant Uniting Women Award, 1992.
Professional Memberships: Delta Kappa Gamma Society; Fulbright Alumni Association; Colorado Coalition for Women's History; Mortar Board Alumni; The Tapestry for Peace, Inc., Board Member.
Interests/Hobbies: Reading, writing, drawing, music, art, theatre, sports, history.