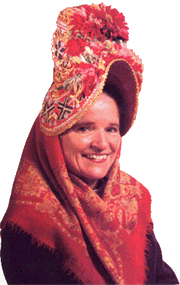 DR. BEVERLY B. CHICO
History/Humanities Department, Regis University (SPS) and History Professor, Metropolitan State College, Denver, Colorado.
Dr. Chico is a member of the Board of Directors and Roundtable Scholar of the Costume Society of America, past-president of the Denver Women's Press Club, and a member of several other organizations. She has consulted for the Canadian Museum of Civilization (Ottawa, Canada) and the Mizel Museum of Judaica (Denver, CO), researched as Visiting Professional at the Smithsonian Institution and Folger Institute, both in Washington D.C., served as inaugural Visiting Scholar at Columbia College, Missouri, and was interviewed as a guest of the British Broadcasting Corporation (BBC) program "Outlook" . Dr. Beverly Chico has traveled extensively overseas for research and collection purposes, and over the past 30 years has created a magnificent collection of headwear. Her biography is listed in "Who's Who in American Women", Marquis. 
Since completing a number of encyclopedia articles (10 volumes—World Dress and Fashion) for Berg Publishers, Oxford (UK) in 2010, she has been working on Hats and Headwear Around the World, her own headwear encyclopedia.
Past Offices that she has held with the Denver Branch of NLAPW include: President 1986-1988; Vice-President 1988-1990; Program Chair 1984-1986, 1988-1990, 2006-2007.
Dr. Chico's Past Work Published/presented includes: 5 articles in Encyclopedia of Clothing & Fashion, 2005; Expert interview on BBC "Outlook", 2001;  Dress article, 2000; 34 book reviews– Choice and Bloomsbury Review, 1990-present; Guest Lecturer: Brigham Young University and Minnesota University, 2005; "Headwear and Power" at Society for Interdisciplinary Study of Social Imagery conference, 2006; "Psychology of Collecting" at Costume Society of America symposium, 2006.
Recognitions/Awards: 12 faculty grants– Regis University, 1992-2004; "Excellence in Teaching" Award– Regis University, 2005; 14 juried presentations, 1990-2006; Service Award, Columbia College, 2006.
Professional Memberships: Costume Society of America 1989-present, Board of Directors, 1999-present; Denver Woman's Press Club 1988-present, President 1992-1993.
Among Dr. Chico's interests and hobbies are history, art, headwear, education, nonfiction writing, and lecturing.
Find out more about Dr. Chico at http://www.headwearandhistory.com/