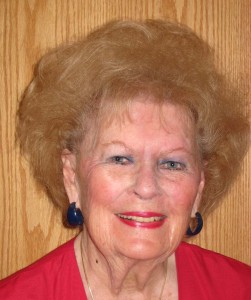 LORRIE C. REED
Lorrie is a Yankee transplant from Wellesley, MA, who now resides in Littleton, CO, with her husband, Bob, a retired senior engineer of Hughes Aircraft. They are proud parents of four children and have a handsome grandson. Lorrie is a graduate of Mount Ida Junior College (Newton Centre, MA) and Ms. Allen's Modeling School (Boston). She has taken private voice lessons in Boston, Connecticut and New York City, won a talent contest on New Haven TV, and appreared on TV in New York City. She has performed at Priscilla Beach Summer Theatre in Cape Cod, and has been booked for singing engagements in Massachusetts–Medley of Songs with Lorrie Reed. Recently Lorrie has been with Aspire Modeling/Talent Agency in Denver and attended classes for voice-overs/commercials with noted Producer and Director George Flynn. Lorrie has recorded a promotional video for AARP.
Lorrie has formerly worked as the Alumni placement/Assistant Development Director of Mount Ida Junior College, Public Relations Director of the Harbor Area YWCA (San Pedro, CA), and Development Director, Reitrement Center and Placement Specialist for Seniors in Denver.
With the Denver Branch of NLAPW, Lorrie has worked on Bright Horizons and Poetry in Motion (publicity), and served as Inspirational Chair 1992-present.
Recognitions/Awards: "Wisdom of the Ages" (an evening of inspiration with Professional Women Elders); Special Merit Award (certification of appreciation) – Forty Plus of Colorado; Zontian of the Year (Aurora Club ), 1985-1986. 
Professional Memberships: Columbine Ladies Care Group IV (Columbine United Church), Denver Lyric Opera Guild, Littleton Centennial Forum, Littleton Republican Women (Chaplain), Zonta Club of Denver II (& International) 
Interests/Hobbies: Church choir (Columbine United Church), family, community/political activist, music, theatre, entertaining.