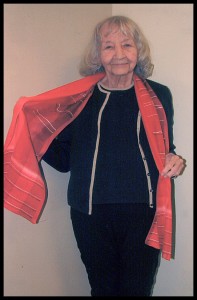 Florence Elliott. Born October 15, 1922.
Florence, who celebrated her 90th birthday in 2012, is a published poet and award winning hairdresser.
Her poems can be found in Pierian Spring, and Urania. Both books are published by the Mile High Poetry Society.
In 2011 Florence helped teach a poetry class at the Kendrick Lake Elementary School. The 10-week class culminated in a finished book of poetry titled Poetry Friends.
Florence was married for 23 years before she ran away with a traveling salesman. That marriage also lasted 23 years. She worked for the federal government for 17 years, and worked for 12 years as a hairdresser.
Her hairdressing talents took her to the prestigious International Hair and Beauty Show in New York where she got an honorable mention.