Welcome to the April/ / May submissions for The Blog Project. The topic is Persistence of memories. Return to this page during the months of April and May to read the submissions and comments about them.
TO COMMENT:  Scroll all the way down to reach the comments section and look for the appropriate comment bubble.  Hit the reply button and begin typing.  Thanks for adding to the dialogue!
Starting at the beginning of June you will be able to read the submissions but will no longer be able to comment.
♠ ♠ ♠ ♠ ♠ ♠ ♠ ♠ ♠ ♠ ♠ ♠ ♠ ♠ ♠ ♠ ♠ ♠ ♠ ♠ ♠ ♠ ♠ ♠ ♠ ♠ ♠ ♠ ♠ ♠ ♠ ♠ ♠ ♠ ♠ ♠ ♠ ♠
The Watch Keeps Melting
fiction by Ann Klaiman
This morning in the campground, I debated trading my walking shoes for my heavier hiking boots and heavier socks.  But I didn't.  And now, as we tread the dusty path to the scenic overlook, I chuckle to think that kids for decades have traipsed this path in mere flip flops.  Uneven and strewn with loose rocks, the route meanders through pinon pines and prickly pear about to bloom.
I barely consider flip flops a shoe at all.   Years ago my dad was convinced I'd break a toe or break my neck wearing "those damn things."  So I didn't.  Much.  Except around the house.    These days, everyone wears them, I guess, though I didn't see any amongst the many families at the campground.  Didn't see any overweight kids, either, but that's another discussion.
Growing up, our own boys wore last year's basketball shoes or just their school shoes on trails like this.  Nikes and Adidas that cost $80, $100, or more.  Yikes!  They'd be dirty, worn, and unwearable by the end of summer, but I stopped worrying about that.  Three of our four boys outgrew their shoes about every six months anyway, on their way to size 12 and 13 feet.
And now on this trail my mind vaguely seeks the unreal sound of flip flops thunking rhythmically on guys' big feet.  I can sense the watch melting.
The overlook rewards our climb.  A shimmering, illusionary expanse of sand dominates Great Sand Dunes National Park.  Clouds banked above move with the wind and briefly shroud the tops of snowy peaks with dark sides in the distant Sangre de Christo range.  They form a backdrop for the pale heights of the dunes.  Below us, Medano Creek, flat and wide, threads through the sand alongside the dunes and disappears around their southern end.  It seems it should make a vague shushing sound as it slowly pushes tons of sand downstream.  The distance from our side of the valley turns dune walkers into several dozen little sticks seemingly carried by ants.  Shadows and light play across the sand in countless variations as wind on the upslope rises and drops new sand at the dunes' heights.  It's Salvador Dali in 3D.
I'm so sorry that I've rattled on about shoes.  Shoes, though, brought me to this incredible view.  But not that way.  Persistently, unbidden memories come to all of us with new connections, altering, fusing into new consciousness.  Our time passes like a watch slowly melting over a table's edge in an unknowable landscape.  In that way, it's all fiction, it's all surreal.
In the later years of his long life, Salvador Dali continued to create new images and continued to print older ones.  I heard that, as he aged, his assistants helped more and more.  At one point in the printing of his lithographs, the story goes, Dali signed large sheets of blank paper, trusting that his images would then be reproduced there upon as his assistants had faithfully promised.  Perhaps this reversal prevented the aging master from marring a masterpiece with a botched signature.  Such a story may be true.  Or it may be an urban legend.  Or it may be Dali's ultimate sign-off— blank paper, but signed, the memory not yet imprinted there.
SCROLL DOWN TO MAKE A COMMENT!
♠ ♠ ♠ ♠ ♠ ♠ ♠ ♠ ♠ ♠ ♠ ♠ ♠ ♠ ♠ ♠ ♠ ♠ ♠ ♠ ♠ ♠ ♠ ♠ ♠ ♠ ♠ ♠ ♠ ♠ ♠ ♠ ♠ ♠ ♠ ♠ ♠ ♠
The Circus Animals Desertion in Hartford
by Sheila Wright
The lions roared and the elephants trumpeted, covering the sounds of the band.  I was three years old and this was my first circus. Sweat poured off the arm of my father on my right side and my mother on the left.  The circus programs quickly turned to fans in the hands of the audience. It was blistering hot in the circus tent; outside the city of Hartford, CT sizzled under the relentless rays of the hot sun.
Suddenly people were standing, then sitting, and up again. My mother screamed. The animals had disappeared from the ring, leaving the band's sounds to bellow in their glory. Within minutes people were streaming from the benches and seats onto the circus floor, running in as many directions as possible. Without warning to me, my short and wily father found his way to the dirt floor. My mom heaved me down into his arms and then jumped herself.
We were smack in the middle of the most disastrous circus fire ever, with the tent in flames. But all was not lost for us. Apparently, a boy scout seated in our area had run down and cut a slit in the side of the not yet flaming tent near us and our section made a miraculous escape while many others died trying to push out from the tent doors.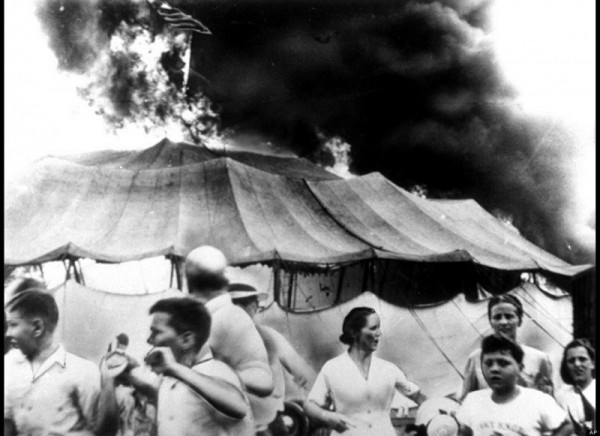 I remember walking a long way in the searing heat, grasping ever so tightly to my parents hands. When we finally got to the car, the door handles were too hot to touch, so we waited forever to finally wrap my father's shirt around the door handle and stick the key in. It was dark when we got home, but my grandmother, aunt and one-year old brother were all standing on the third-story porch waiting for us. Those are my memories; the rest is all blur.
But do I really remember this traumatic event? I know my mother did, because she never went to a public event, show or movie without making sure she had a seat near the exit door. But it was only after her death that we all learned her exit door affinity was connected to the circus fire.
What about the persistence of this memory? Do I really remember being thrown, carried through a slit in the tent, the long, hot unbearable walk to the car or do I just remember the stories I heard, transforming those anecdotes into my childhood memory? A few weeks after the circus fire, the event joined one of several 'Do Not Talk About' silenced stories in my family's collective narrative. But I already had my story.
For sixty years I never questioned my memory. But several years back, sitting on the beach, my brother Garrett starting talking about the small scar on the back of his neck. The scar, he said, came from that nasty cut he got in the circus fire. He was stunned when I laughed and told him he hadn't been born at the time of the circus fire. Shaun was the baby at home on the day my parents and I went to the circus. After several days, Garrett conceded that he might have some of the story wrong, but switched to a tale suggesting the scar/birthmark occurred in vitro because my mother was pregnant with him at the time of the circus fire. We showed him proof that he was not part of the circus trauma.  After doing his own research, he now reluctantly accepts this truth, but to this day still feels connected to my mother's trauma from the fire.
His lifelong memory shattered, I took another look at my own. Does it matter whether or not the memory is authentic or made up? It's still a memory. Everything I remember is true. All those events happened when I was three, at my first circus with my parents. In the foul rag and bone shop of the heart, sits my memory of July 6, 1944.
SCROLL DOWN TO MAKE A COMMENT!
♠ ♠ ♠ ♠ ♠ ♠ ♠ ♠ ♠ ♠ ♠ ♠ ♠ ♠ ♠ ♠ ♠ ♠ ♠ ♠ ♠ ♠ ♠ ♠ ♠ ♠ ♠ ♠ ♠ ♠ ♠ ♠ ♠ ♠ ♠ ♠ ♠ ♠
The Zen of Sand in Private Places
by Mollie Rue
After the death of my young husband at the end of a long Minnesota winter I decided to start my life over in Southern California. It seemed it was meant to be. My sister, long-settled with her young family in The Golden State, called me up in the dregs of a cold, grey, supposedly spring day, with an interesting proposition, "Do you want to move out here and buy a health food store with me?"
Since I was already on a trip in my life that desperately needed a confirmed destination, I immediately said, "Yes! Count me in!"
It's hard to believe that just a few months ago I was a curious newcomer myself, sneaking shy peeks as others frolicked, unfettered by clingy wet bathing suits, or clothing of any kind, for that matter. I found the lack of self-conscious modesty at Black's Beach, San Diego to be shocking – but refreshing. I even thought I might have to challenge myself to try it someday.
Then: I was intimidated. Now: I am acclimated; confident in my own bare skin that I am a hip, 70's, California Girl. Just "thirty-something" and a Mom of two kids, I have belly-danced my way to a reasonably taut stomach. I play beach volley ball in a bikini. My refrigerator is stocked with Tofu, Kefir, raw milk and box wine. I take vitamins – not drugs, but I have a bong as a decorative knick-knack. My hair hangs long and straight; streaked to the requisite shade of Clairol "Honey-Kissed Blonde." With the help of a few Irish freckles, baby oil, and a modicum of common sense, I maintain a credible tan. Now I want and deserve my Zen.
I subscribe to the prevalent Southern California philosophy that relaxing at the beach "a la naturel" is a path to spiritual renewal. It gives me the perfect time-and-place to search my soul, expand my mind and become one with the elements. I have evolved to believe that something mystical happens to the human mind and body when fully exposed and embraced, as it were, by the warmth of a sandy beach. Only then will my monkey-mind, gently lulled by the lazy waves, finally give me a moment to just… "Let it be".
This experience is something I seek as a form of Nirvana, a private destination to be reached only by a lucky few. It often requires great perseverance, as even the balmiest days can bring an unexpected downpour, or the dreaded marine-layer casting its sudden gloom: producing a rash of goose bumps and a mad scramble into sand-scratchy clothes.
However, the biggest challenge to my pristine spiritual quest is not the invasiveness of Mother Nature herself, but another force of nature altogether: the invasion of the Asian tourists, mostly males, of course, that are clever and energetic enough to find our special beaches. After all, these hidden oasis are not that easily accessible. Situated below steep cliffs, or hidden past slime-covered boulders, they normally require a local's knowledge of critical timing regarding the tides, and more importantly, the helicopter fly-over "maneuvers" from nearby Camp Pendleton.
Eyes narrowed behind my John Lennon mini-sunglasses I observe the latest crop of interlopers. They pretend to meander, but invariably end up within a few feet of their target: the large-breasted, bleached-blonde, Copper-Toned, bare-bottomed, female of the species. Once in position, the hunters close in quickly and shoot with the most heinous of weapons: the instant camera. I am disgusted. But today I merely flick my towel over my most private parts, close my eyes, breathe deeply, and hold my position. Tomorrow I will find another, secret, more-hidden place to find my Zen.
SCROLL DOWN TO MAKE A COMMENT!
♠ ♠ ♠ ♠ ♠ ♠ ♠ ♠ ♠ ♠ ♠ ♠ ♠ ♠ ♠ ♠ ♠ ♠ ♠ ♠ ♠ ♠ ♠ ♠ ♠ ♠ ♠ ♠ ♠ ♠ ♠ ♠ ♠ ♠ ♠ ♠ ♠ ♠
Coming Full Circle
By Kay Taylor
I must have been about five that day Tinkerbell, Aunt Dee's Siamese cat, peed on my Tickle. Tickle was a goldenrod piece of wool I carried with me everywhere. It was my comfort when everyone else in my world disappeared.
After the incident I cried inconsolably. "My Tickle, it's wet and cold! I hate you, Tinkerbell- look what you did!"
Smiling, Aunt Dee put her warm chocolate arms around me and said she would make my world right again.
She quickly gathered up Tickle and whisked it into a small basin of water in her tiny kitchen sink. Meanwhile I stood pouting, my bottom lip quivering with uncertainty and hurt.
I don't remember how long Tickle was gone. It must have been an eternity for me that day for I know now that my aunt didn't have a washer or a dryer in that small house on Long Island in 1956.
But eventually, Tickle emerged and I felt alright again.
That was 58 years ago. I no longer have a piece of Tickle. However, four years ago I remember standing before a wall of colorful yarns in the Lamb Shoppe, my favorite knitting store. I was pondering which color wool to buy for an afghan project. Whereas most of the other 30 women in my afghan class chose a cream or white color yarn, I was drawn to a mustard colored skein. I didn't know why I had picked this color until I spent ten months of handling, winding, ripping out stitches, cabling and sometimes cursing. That project would take me 18 months.
During that tenth month I realized I was recreating a grown-up version of Tickle. I must have felt the need for comfort using my own hands this time to fashion the cloth. I sat there holding the knitting needles and crying softly as I realized my grown up self coming full circle to greet the child within.
SCROLL DOWN TO MAKE A COMMENT!
♠ ♠ ♠ ♠ ♠ ♠ ♠ ♠ ♠ ♠ ♠ ♠ ♠ ♠ ♠ ♠ ♠ ♠ ♠ ♠ ♠ ♠ ♠ ♠ ♠ ♠ ♠ ♠ ♠ ♠ ♠ ♠ ♠ ♠ ♠ ♠ ♠ ♠
Lunch with a Legend
by Jo'el Roth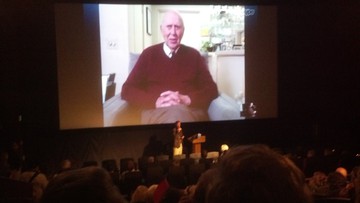 " I highly recommend talking to yourself!" Carl Reiner said.
"If you are smart, and you ask yourself good questions,
you get good answers!"
Today I had lunch with TV/Movie comedy legend Carl Reiner, along with Film Critic Greg Moody, John Hickenlooper, (the Governor of Colorado), and 200 other fans at the Starz Film Festival at the SIE Film Center on Colfax Avenue in Denver.
Through the technological magic of Skype and a very large projector, we were able to hear what he had to say, and he was able to see and hear all of us in the audience. Questions were asked, he mused and remembered his storied career, and, best of all, we saw very rare clips of him with Sid Caesar on "The Show of Shows." From the top row of the auditorium, I feverishly scribbled notes onto the program book, in order to share the experience with the readers of my blog, "Life is a Writing Prompt,"
The 91 year old creator of the Dick Van Dyke Show, as well as the writer of Steve Martin's first hit movie, "The Jerk," as well as "Dead Men Don't Wear Plaid," "The Man with Two Brains," and "The Comic," gives credit for his first writing success to his late wife, Estelle. "I had been invited to a meeting with a book publisher, to write stories. I told her, 'I don't know about words! I don't have many words, I'm not well educated!' She then said to me, 'You may not have words, but you have feelings. Write about what you feel." (If you hunger for more, check out his book, "I Remember Me.")
Today's prompt:
Today, at the end of the day, make a quick list inventory of the various feelings and emotions that you traveled through during the day. Circle one. Please describe that feeling. What color is it? Draw a picture of it. Ask yourself: what is this feeling telling me, and what do I do next?" Acknowledge each emotion as valid and true for you in your life and your wisdom, document it, and learn from it. This reflection may just prove valuable in your own creative efforts sometime in the future. When you return to this entry, and read it, you will return to it, remember it, feel it, and possibly learn from it as a creative resource for your work.
Recent MRI studies of the brain have shown that "…We remember with the body," just as Jack Canfield told us so long ago in the first of his books, "Chicken Soup for the Soul."
In a series of benchmark studies, while the scanning equipment is running, test subjects were asked to remember certain significant moments in their lives, either sad, happy, angry or elated. As they remembered, different areas of their brain lit up on the screen, each one in the specific areas of sadness, happiness, anger, etc. The body responds to a memory of an emotion, or even of an aroma or temperature, as though it were happening in real time.
Estelle Reiner knew the truth, and by sharing her wisdom with her husband, she helped to set in motion a truly remarkable career which has given us great gifts of laughter and insight for many decades.
Please keep writing. All best, Jo'el
SCROLL DOWN TO MAKE A COMMENT!
♠ ♠ ♠ ♠ ♠ ♠ ♠ ♠ ♠ ♠ ♠ ♠ ♠ ♠ ♠ ♠ ♠ ♠ ♠ ♠ ♠ ♠ ♠ ♠ ♠ ♠ ♠ ♠ ♠ ♠ ♠ ♠ ♠ ♠ ♠ ♠ ♠ ♠
A Different Kind of Memoir
by Virginia Small
I have these memories that keep popping into my awareness. Memories of relationships that have turned sour, of friends who turned out not to be friends, of family members with whom I prefer not to have contact, of co-workers, school mates, and various others who have turned out to be other than what they appear.
I decided to write these memories down in a bio of sorts, and at the same time, warn unsuspecting others of the toxic traps people set. I wondered how to do this without sounding bitter or paranoid.What would I title it? Don't Let This Happen to You didn't sound quite right.
One day I was telling a friend about one of my many horrible jobs. While I was describing one of the scenarios she interjected, "Mean people suck." That was it. I had my title.
Along with that revelation I realized how to get my idea across without it being too heavy. Humor and sarcasm were the key. Why didn't I think of that before? That's how I did everything.
So, to make a long story longer, here are some ideas for the book I am working on titled Mean People Suck (because they really do).
There will be up to 40 scenarios. I thought there would only be 20 but I keep coming up with new examples. About half of the descriptions are written. Several thumbnails have been sketched out. Some illustrations have been done many times in various ways, as I am still experimenting.
There is still a lot of work to be done and decisions to be made. Will this be a book, or a deck of cards, or a set of posters that can be purchased one by one?  If it is a book will the illustrations be in full color or Black and White for others to color in? As far as books go I kind of like the idea of a coloring book.
Just so you know this will not be a children's book. This will be for grown-ups; which may be another reason I may create and sell it piece by piece.
SCROLL DOWN TO MAKE A COMMENT!
♠ ♠ ♠ ♠ ♠ ♠ ♠ ♠ ♠ ♠ ♠ ♠ ♠ ♠ ♠ ♠ ♠ ♠ ♠ ♠ ♠ ♠ ♠ ♠ ♠ ♠ ♠ ♠ ♠ ♠ ♠ ♠ ♠ ♠ ♠ ♠ ♠ ♠
Grandma's Window
by Juanita L. Pope
Grandma is looking out her window again.
She must be strolling through her mind, I think,
to see what she might find
in times done and gone.
I position myself to make sure I see all I can, this time.
Is she looking past her past, eyes fixed upward,
toward the top of jungle-green foliage all over her manicured yard?
Is that a memory on her wrinkled forehead,
projecting through her almond shaped eyes?
She keeps gazing at those strong
oak outstretched arms.
Are these trees beckoning her to look up to the deep blue cloud?
Because–she's looking up now–I see she's in a lengthy stare.
I can't help it,
I break in on her communion out the window.
I ask her what she is staring at.
Jolted, she shifts herself slightly.
I think I better brace myself.
Grandma is known for giving long drawn out life lesson
stories,
not direct answers.
She looks through me for a moment and turns her eyes to look out the window again.
Surely, she's thinking about things no longer.
She tells me,
"The future, baby."
I look out grandma's window, I want to see it.
I don't, yet.
I only see the obvious.
SCROLL DOWN TO MAKE A COMMENT!
♠ ♠ ♠ ♠ ♠ ♠ ♠ ♠ ♠ ♠ ♠ ♠ ♠ ♠ ♠ ♠ ♠ ♠ ♠ ♠ ♠ ♠ ♠ ♠ ♠ ♠ ♠ ♠ ♠ ♠ ♠ ♠ ♠ ♠ ♠ ♠ ♠ ♠
Empty Arms, Empty Memories
by Sophia Baldwin
When I was eight-months pregnant with my first baby, I was quite agile and still working as a nurse at the hospital. One day I looked out at the peach tree in the back yard and decided it was time for peach pie. I climbed up the peach tree and picked a bowl of sun-kissed sweet smelling peaches, then walked back into the kitchen. In the kitchen I felt a sudden wet feeling between my legs. I called my obstetrician and he told me to meet him at the hospital.
I left a note on the kitchen counter for my husband, who was at work, and asked a neighbor to take me to the hospital. The doctor examined me and told me I was in labor. Within the next hour I delivered a son.
"It's a blessing your body rejected an imperfect fetus" the doctor said quietly. "There wasn't any protective skull over the back of your son's brain."
I began to sob. One minute I was pregnant, the next minute empty and bereft.
I was admitted to the postpartum unit where I heard the crying newborns intermingled with the happy laughter of their mothers and fathers.
Suddenly, my husband burst into the room, his face pinched with fear and worry, his eyes shining with unshed tears. "When I saw your note, I raced to the hospital. Are you OK? Where's our baby? I want to see our baby."
"I do too," I sobbed. I rang for the nurse and she brought us our perfectly formed son. We stroked his tiny face, his tiny hands, and his tiny body that had perfectly shaped genitals. We recalled his energetic kicks against the walls of my abdomen and my husband's hand. We tenderly touched and kissed the soft squishy area on the back of his head where the skull bone was missing. We held our tiny baby in our hands and kissed him goodbye.
The hardest thing I have ever done is to shed my maternity clothes and switch into regular clothes. Overnight, I had to get used to a flat stomach, an empty womb, and empty dreams. I had to face a world that invariably asked: "I thought you were pregnant? What happened?"
Afterword:  Our baby boy must have died in my uterus without my knowledge. He was kicking and moving the night before, but abnormal hormones and toxins from his brain must have precipitated his early delivery. At the time, I was a nurse in the cystoscopy lab of the operating room where I was exposed to x-rays frequently. I transferred from OR into the newborn nursery and got pregnant again. We went on to have a son, a daughter, and another son. But we never forgot the first son. We were so young-so glad to be parents. 
SCROLL DOWN TO MAKE A COMMENT!
♠ ♠ ♠ ♠ ♠ ♠ ♠ ♠ ♠ ♠ ♠ ♠ ♠ ♠ ♠ ♠ ♠ ♠ ♠ ♠ ♠ ♠ ♠ ♠ ♠ ♠ ♠ ♠ ♠ ♠ ♠ ♠ ♠ ♠ ♠ ♠ ♠ ♠
The River of Remembrance
by Laurel Jean Becker
Wouldn't it be wonderful if we all had great memories of our childhoods?  Many of the people I meet do not.  Negative memories often come to the forefront of our thinking faster than the positive—and they can be persistent because they certainly have a greater emotional impact on the memory, or as in my case, there are few positive memories at all.
When it comes to writing, negative memories can produce a great deal of fodder for both our poetry and prose.  The cathartic effect of writing memory can be both uplifting and healing—as it has been for me.  I read somewhere that on a writer, nothing is lost—even bad experiences can contribute to the rich fabric of our creative processes.  Everything is valuable.  That doesn't mean the existence and persistence of bad memories is to be valued.  (I certainly would have preferred good memories.)  But good can come from bad, there is always a silver lining, and our muses can use anything and everything we have experienced to produce emotionally deep, creative work.  The following is a poem from my chapbook. I used a traditional form in order to feel structure both in the poem and in my emotional experience of writing it.  For me, persistent memories are best handled with structure—both in writing and in life.
The River of Remembrance
I dove into the water, volunteered to take a swim,
when suddenly the current grabbed and pulled me farther in.
An unseen root then snared my foot and flung me on my side,
while water tugged me downward into certain homicide.
To my surprise, the root released and I flung far ahead.
I turned to view familiar ground recede around the bend.
The force carried me onward through memory's painful core;
and I in mid-stream floundered, stroking hard toward the shore.
The waters rushed on farther down past resting places carved
against the earth's high ancient wall, which guarded Nature's park.
Impervious to my suffering, of native beauty made;
the park in cool, calm safety lay a short distance away.
A weeping willow arched its arms across the rushing band,
and tempted me to think that I could pull myself to land.
But overwhelming currents, voiding all the efforts made,
swept me, helpless, down the river of my remembered pain.
The passing hills grew taller into boulders smooth and round,
where angry waters pounded on hard and dangerous ground.
The rapids threw my body against solid rocks of hate,
while narrow cliffs stood over me and pointed toward my fate.
A dam on the horizon slowed the torrents once again.
The doleful water deepened here, and I could see the end.
Held back by walls, it settled into peaceful currents now.
I drifted with the flowing streams, not caring where or how.
When suddenly through shallows I viewed glowing sand below,
as water gently pushed me where it wanted me to go.
I saw narrow roots of hope reach like fingers from the shore.
They beckoned me to capture them, to trust myself once more.
I let my body float while fighting feelings, much too strong,
that I was now the water with no place where I belonged.
I heard a gentle whisper rise from somewhere deep inside.
It said, "I planned this place for you."  I wearily complied.
I let my knees bend under me and touch the solid earth.
I crawled onto this patch of shore; my body knew rebirth.
My eyes opened to knowing that I was free at last from
this river's rushing rapids filled with memories of my past.
On my blog, the entry "Perfectionist? Who? Me?" deals with the effect of memory on behavior:
♠ ♠ ♠ ♠ ♠ ♠ ♠ ♠ ♠ ♠ ♠ ♠ ♠ ♠ ♠ ♠ ♠ ♠ ♠ ♠ ♠ ♠ ♠ ♠ ♠ ♠♠ ♠ ♠ ♠ ♠ ♠ ♠ ♠ ♠ ♠ ♠ ♠ ♠