Welcome to the November / December submissions for The Blog Project. The topic is The Magic of Cold. Return to this page during the months of November and December to read the submissions and make positive comments. The comments section will be closed in the middle of January but you will still be able to read the submissions.
Φ Φ Φ Φ Φ Φ Φ Φ Φ Φ Φ Φ Φ Φ Φ Φ Φ Φ Φ Φ Φ Φ Φ Φ Φ Φ Φ Φ Φ Φ
The Day the Sun Returned
by Jo'el Roth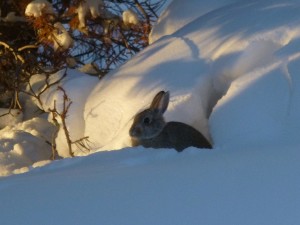 On the day the sun returned, once the layer of snow had melted back from the front lawn, our local family of rabbits came romping back out to chow down on the frosty cold blades of grass. We enjoyed watching them as they nuzzled each clump of grass, evaluating which ones were the tastiest.
Like us, they had retreated during the fall of the fluffy stuff and took refuge in their den, somewhere under the snow covered Juniper bush next to the bedroom window. Like us, they had taken immediate notice of the return of the sun, and had come out to play.
On the day the sun returned, the road in front of our house was again zipping with cars. We could hear the gray slush splash out from under the speeding tires and up against the curb.
On the day the sun returned, people were again walking through the outdoor shopping mall, having flung off their coats and headed outdoors to be with other people. They had actually walked AWAY from the TV's and the tablets and the smart phones, for some community and some walking! After the hunkering down during the snow onslaught, many people again realized the magic of being out and about, among other people!
On the day the sun returned, the Magic of Cold could be fully realized. Without the cold spell, the warm up would not have been as appreciated! Without the cold spell having settled in on us for a while, the company of others would not have been so enticing, the thought of going outdoors would not have been so tempting, and, most of all, the blades of grass would not have been so fresh and crispy!
Scroll down to make a comment
Φ Φ Φ Φ Φ Φ Φ Φ Φ Φ Φ Φ Φ Φ Φ Φ Φ Φ Φ Φ Φ Φ Φ Φ Φ Φ Φ Φ Φ Φ
Messages
by Kelly Ann Compton
When I was in my teens, I saw the last 45 minutes or so of a movie that fascinated me. I didn't know the title, and about all I remembered of the movie was the first scene I saw which took place in a bar that had a Christmas tree in the corner. For years, I talked about this movie I never really saw, only knowing that I wanted to see the whole movie because it had enchanted me.
Move ahead ten years, and there I was sitting in front of the television on Christmas Eve watching a movie called "It's a Wonderful Life" starring James Stewart. I found myself enjoying the storyline of a man who wants to get out of the town he was raised in and see the world. George has these amazing dreams of wanting to build great buildings in large cities. As often happens in life, George's dreams do not come to fruition. He marries the girl he loves, has four beautiful children and lives a decent life, but underneath it all he resents not being able to live his dream.
One day, a crisis occurs and a scene in a bar with a Christmas tree in the corner comes on and I begin screaming with joy, "This is the movie! This is the movie!" Suddenly, the movie starts shooting a great message to me.
Though the crisis is not of his own making, George becomes angry, distraught and hopeless. At the bar, he gets face punched and then starts walking through a snowstorm deciding it's time to die. It is at this point the magic of cold begins. Through very wet and cold circumstances, George meets his guardian angel, Clarence. During their first conversation, George declares that he wishes he had never been born. Clarence grants the wish to show George what life would be like for others if he had never been born.
After seeing many disheartening circumstances in people's lives in a world without George, Clarence says, "You see, George, you've really had a wonderful life. Don't you see what a mistake it would be to throw it away?" George now prays to be alive again.
A few moments later, George is at home with people flocking in to help him in his time of trouble. His brother comes in proclaiming, "A toast to my brother George: The richest man in town!" And yes, even though he has little money, George realizes he is rich. He is rich in the knowledge that every person on earth has purpose, no matter how mundane life may seem. Now freed from what he perceived as bondage, George finds delight in the wonderful life that is his.
Disney's "Frozen," a story of two princesses, also speaks to me. Elsa, the older princess, has magical powers of ice and cold. She and her sister, Anna, are close until an accident causes Elsa to live in fear. She lives in seclusion for several years, but circumstances change forcing Elsa to engage with others. Events happen, and Elsa uses her power in a moment of anger turning the world to ice. She flees to the top of a mountain determined to be free. Anna, fully trusting that Elsa can remove the ice and would never hurt her, goes after her. Through this journey we learn that an act of "true love" is not found in a prince coming to the rescue, but in fully believing in, and trusting, someone you love. After Anna sacrifices herself to save Elsa, Elsa realizes love's power. She learns not to fear her magical powers, but to accept them, and take joy in being who she is. And finally, Elsa realizes that if used with love, her powers can be a gift to others.
And that, my friends, is "The Magic in Cold."
Scroll down to make a comment
Φ Φ Φ Φ Φ Φ Φ Φ Φ Φ Φ Φ Φ Φ Φ Φ Φ Φ Φ Φ Φ Φ Φ Φ Φ Φ Φ Φ Φ Φ
Beyond
by Ann Klaiman
The cold seeps like glue
into green-leafed crevasses,
bonding then to now.
Geese form honking lines
circling over drifting leaves
far from where they'll sleep.
Winter surprises.
Creatures shocked with cold breathe deep,
exhale dreams like clouds.
Above, flecks of light
pierce inky cold, glitter with
hope from eons past.
Scroll down to make a comment
Φ Φ Φ Φ Φ Φ Φ Φ Φ Φ Φ Φ Φ Φ Φ Φ Φ Φ Φ Φ Φ Φ Φ Φ Φ Φ Φ Φ Φ Φ

Shelia Wright
FIRE and ICE
by Robert Frost
Some say the world will end in fire,
Some say in ice.
From what I've tasted of desire
I hold with those who favor fire.
But if it had to perish twice,
I think I know enough of hate
To say that for destruction ice
Is also great
And would suffice.
Whenever I think of this poem, I get cold. Shivering cold, so cold I want to wrap up in a blanket and say good-bye for the day. Alas, whenever I think of cold or fear cold, I think of this poem. I think of passion and hate, life and death, and the lasting coldness of fear that transforms into ice. So it's quite a circuit I ride during the wintertime of aging. No longer filled with anticipation of snowflakes, ice-skating and sledding, the magic of cold is gone. I'm looking for magic in other places these days.
Scroll down to make a comment
Φ Φ Φ Φ Φ Φ Φ Φ Φ Φ Φ Φ Φ Φ Φ Φ Φ Φ Φ Φ Φ Φ Φ Φ Φ Φ Φ Φ Φ Φ
The Winter Queen
Virginia Small
I leave no footprints as I make
My way 'cross tundra cold.
No one can follow in my wake
As winter nights unfold.
A white crow wings its way ahead
To herald my return.
Two silver wolves are at my feet
To forecast winter's burn.
The sleeping trees, so stark and bare
I shroud in liquid glass.
I sprinkle jewels everywhere
I have for eons past.
As I approach, the woodland folk
Look for a place to sleep.
Or grow a triple winter coat,
Or gorge on food they eat.
I take no pity on the sick,
The weak, the dull, the slow.
It's now that death will reach its peak
No mercy will I show.
I leave that as my sister's task
For spring will bring new life.
I'm charged with wearing winter's mask
A necessary strife.
Not all will sleep as I pass by.
I will not go unseen.
The pine, the spruce, the edelweiss
Will see the Winter Queen.
Some people curse my time on Earth
They'd rather I not be.
They only know my crueler side
My beauty they don't see.
They fail to know my crystal sky
My diamond covered sea.
The shrouded silence of my Earth
The magic that is me.
scroll down to leave a comment
Φ Φ Φ Φ Φ Φ Φ Φ Φ Φ Φ Φ Φ Φ Φ Φ Φ Φ Φ Φ Φ Φ Φ Φ Φ Φ Φ Φ Φ Φ
ZERO TRACTION, 1995
by Sophia Baldwin
After celebrating Christmas in Texas with my brother, my husband and I headed out for Littleton in a pickup truck pulling an eighteen-foot fifth-wheel trailer. North of Houston we began to see more and more cars in roadside ditches. "The truck's tires are slipping on the icy highway. I better gear down from overdrive," commented my husband.
Then the highway ice turned into frozen ruts that entrapped the pickup's wheels. The fifth-wheeler began to wander sideway, forward and backwards banging and dragging at the truck like a crazy drunk. I wanted to help my husband, but I was useless. My teeth chattered with fear.
Over our truck's CB radio, we heard truck drivers and car drivers betting on our survival. "If that fifth-wheeler flies over one more overpass like the last one, it's curtains for the driver."
"Oh man!! The fifth-wheeler has had it on the bridge," shouted another male voice.
My husband and I felt the pickup levitate, and literally float over the icy overpass while the fifth-wheeler free-floated side to side behind the pickup. "Let's hope the trailer doesn't land in front of the truck," muttered my husband. He pointed the steering wheel down the highway, gently pushed down on the gas pedal to keep the pickup moving ahead of the fishtailing trailer.
How my husband kept everything horizontal and upright is beyond my comprehension. Finally, a filling station appeared in the distance. I pleaded with my husband to pull into the filling station. Without any traction or brakes, my husband carefully drove down the icy ruts on the exit ramp. "Hang on to your seat belt. If I lose control of the truck on this curved exit ramp, the trailer could sideswipe us, roll the pickup and kill us."
In the rearview mirror I watched a line of semi-trailers and cars follow us to the filling station. In spite of what we heard on the CB, my husband had pulled off a bit of magic out there in the cold. He filled the truck's gas tank with gas. I sat in the truck with tears of relief rolling down my cheeks. I was glad we were alive.
Scroll down to leave a comment
Φ Φ Φ Φ Φ Φ Φ Φ Φ Φ Φ Φ Φ Φ Φ Φ Φ Φ Φ Φ Φ Φ Φ Φ Φ Φ Φ Φ Φ Φ