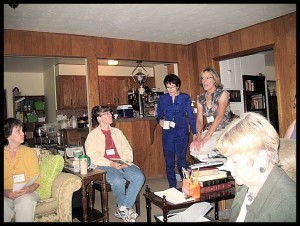 Denver NLAPW Meeting Minutes 10/1/2011
President Diane Chambers called the meeting to order at 9:44 a.m. We met at Kelly Ann Compton's house.
Members in attendance were: Andrea Antico, Diane Chambers, Kelly Ann Compton, Florence Elliott, Joice Fairchild, Pat Kennedy, Marie Kriss, Nancy Peterson, Gwen Schott, Virginia Small, and member-to-be Jane Binns.
Guests in attendance were: Marleine Yanish and our presenter Jan Marino.
Inspirational reading: Joice read her poem, "I am special."
Everyone introduced themselves to our guests sharing our interests and line of work.
The September, 2011 minutes were approved.
Treasurer's Report: Gwen shared that after an income of $133.75 (mostly from Jane's membership dues and projector rental) and the reissuing of a check e to NLAPW of $55.00 our current balance is $1,941.95.
Committee Reports:
• Membership: National has Jane Binns submitted membership application. Erika Christenson is planning on becoming a member.
• Hospitality: Diane has the suitcase with all the hospitality items and Kelly Ann is keeping the projector in her care.
• Tapestry: Joice, Gwen, Kriss, Ann, Sandy and Eve's son Andrew McIntosh are the current committee members. Diane shared thoughts on some tasks needing to be addressed in regard to the tapestry. It was noted that Eve (the originator of the idea for the tapestry for peace) wanted it to be that no one person or group should have ownership of the tapestry. Joice is working on a documentary about the tapestry and its history to be shown to prospective places to display it; the documentary is "The Voices and History Behind It.". One panel from Florida is not yet with the rest of the tapestry. Joice may offer a presentation at the NLAPW Biennial Convention; she said she needs to discuss this with the committee. We discussed the possibility of putting the last panel together at Joice's house. Kriss voiced the question: What is the end destiny of the tapestry? The Tapestry Committee will meet before our November Meeting.
Project Updates:
• Bessie's Hope: Kelly and Kriss shared information about our goals with Bessie's Hope. Kelly shared that she is waiting to hear back from one of the Bessie's Hope coordinators about when our next venture would be.
• Bridge Place Academy: Gwen and Andrea have not heard from the school yet. Diane sent a description of the project, written by Gwen and Andrea, to National, but there has been no response yet.
• Holiday Bazaar: The bazaar in Conifer will be December 3rd in the Lodge at Beaver Ranch. The cost is $75 per booth of which we have paid $50 carried over from the Market Dayz in August. Pen Women participants in the Holiday Bazaar will each pay $5.00. The Pen Women holiday party will take place on December 4th instead of December 3rd.
Old Business: No old business was discussed
New Business:
• The need for a new treasurer was discussed as Gwen is ready to "retire" from the job. Kelly volunteered to do the job in addition to being secretary. A vote was held and Kelly Ann was voted in as co-treasurer until January elections.
• Diane shared that National is now on tweet and on Facebook. She also shared news of the biennial convention.
Announcements:
• Today Joice is hosting an Open House at her home showcasing the Tapestry.
• Our next meeting will be held at Andrea's house. We will begin at 9:15 with critiques.
The meeting was adjourned at 10:57.
Following the meeting, Jan Marino spoke on writing. She encouraged writers to trust themselves and their instinct.
Respectfully submitted by Kelly Ann Compton, Secretary