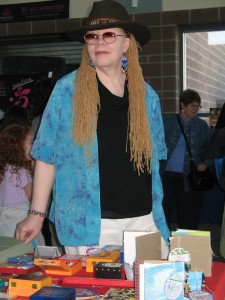 I am a mixed media artist, illustrator, cartoonist, writer, and craftsperson.
I have a BFA from the School of Visual Arts and an MA from the University of Illinois at Springfield. I also have a certificate in multimedia design from Sessions School of Design.
I just received a certificate of completion from a University of Boulder comics class.
I recently had the pleasure of being the guest presenter at a blind and disabled writer's group called Writer's Party line. I spoke about the process of creating Buster The Bully, and read one of my story poems.
I currently run two websites of my own and maintain this one. You may visit my art site and blog, Zebracorn Art Journeys.
I believe illustration and cartooning are legitimate art forms and can speak volumes about society and the world.
I make art because I have a story to tell. For me it's all about story and message. That story can be written, danced, voiced or put on canvas. I have chosen visual art and the written word. We are artists. We have been given these sacred gifts. They are to be used. We have been given stories. They are to be told.