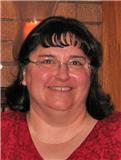 Editor, writer, seamstress, and quilter are just a few of the hats Kelly Ann Compton wears these days. A lover of learning, Kelly Ann holds Master degrees in both special education (emphasis in emotional disabilities) and counseling. She taught special education for 26 years with a brief break cooking at a fishing lodge in Iliamna, Alaska for two five month stints. She also had a private counseling practice working with children and their families for four years.
Kelly Ann has a published memoir entitled Discombobulated: An Inspiring Journey of Hope Through Mental Illness. Discombobulated is available through Trafford Publishing or Amazon.com. The e-book version will be available soon.
A long time ago, Kelly Ann decided she wanted to be able to share some of her stories with family and friends in book form. She learned how to sew and bind books by hand and now hand-binds journals to sell.
Kelly Ann is currently both secretary and treasurer for the Denver Branch of the National League of American Pen Women.
Kelly Ann can be contacted via email at kkeddt@comcast.net.