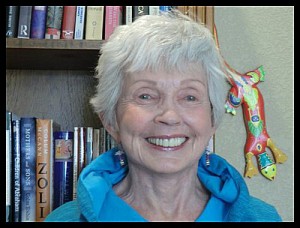 Remembering Sheila
Sheila became a valued member of the Denver Pen Women in 2010 and left an indelible mark on our organization. Our best wishes to Roscoe and all of Sheila's wonderful family. Here are thoughts from some of our members:
Sheila, How do we remember you? Let me count the ways.
Spirit -Selfless and successful. Sympathetic and strong. Sincere and free.
Heroine – Helpful and hopeful. Humane and hospitable. Healthy, happy hiker. HERA hero!
Equalizer – Educated and energetic. Enthusiastic and empathetic. Excited and eager.
Independent – Intelligent and insightful. Intrepid, innovative and inventive.
Lover of – Life, laughter, literature, and other lands. Loved (and loved by) family and friends, students and staff.
Angel AKA Activist – Awesome and amazing. Audacious and ardent. Adventurous. "Sheila, out of sight, but our souls and memories can reach." ∼Andrea Antico
"Each day is a blessing. Sheila was a strong spirit and so brave. We'll miss her insights and beautiful words." ∼Jody Glittenberg Hinrichs
"This news [of Sheila's passing] is heartbreaking. I am sad beyond words. Another one of our precious Pen Women… I have a place in my heart for Sheila and Mollie." ∼Diane Chambers
"Sheila was a calm voice of wisdom and knowledge, yet simultaneously humble, humorous, and elegantly brave." ∼Marie Kriss
"Bless her heart. We will miss her, but at least she's out of her suffering. I witnessed how my best friend suffered. Sheila was a sharp cookie." ∼Donna Clark
"Sheila was a consummate blogger, and I enjoyed learning something of the craft from her when she wrote for the Pen Woman's "Blog Project" in 2014. In an entry titled "Life is a Balance," Sheila wrote about her family's yearly ritual of building a cairn at Napatree Point." ∼Ann Klaiman
"I remember Sheila very fondly and will miss her. she always had a big smile for everyone and was very sharp. I admired that sharpness." ∼Virginia Small
Sheila's obituary can be found online at the Denver Post.
If you have thoughts and memories about Sheila please post them in the comments section below.