The beauty of a life well-lived never dies.
Alice Marian Laurent, November 16, 1915 — March 4, 2010
Painting of Marian by her son Richard
Alice Marian Laurent's long-term commitment to writing was recognized by the Denver Branch of The National League of American Pen Women, who granted her Emeritus membership status (for life). She served as President of the Denver Branch from 1982 through 1984, as Hospitality Coordinator in 1978, and was featured in their Bright Horizons Annual in 1988 and 1989. She also received a writing prize from NLAPW in 2003.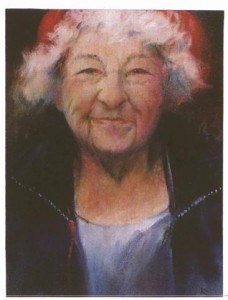 Marian's published articles appeared in Colorado Old Times Magazine (1978-2000), The Denver Post, Empire Magazine feature articles (1978-2000), and PenwithExpress.com (Cornish Stories –UK). She was a member of the Colorado Authors' League, Cornish Cousins, and had a keen interest in history, genealogy, and travel.